Whether you are an established fashion retailer or a starting Shopify merchant, Conversion Rate is one of the most important metrics which drive the growth of your ecommerce.
This series of articles will analyze the 4 tactics which have helped some of the fastest-growing fashion brands optimize their conversion rate.
Did you miss previous articles? Read Part I and Part II of the series.
---
In this week's article, we will cover the third of the 4 tactics which will be analyzed in this series: Increase Returning Visitors.
Today we will explain you how to measure returning visitors properly and we will also provide you with 5 actionable quick wins to start increasing Returning Visitors today.
Why is Increasing Returning Visitors Important for your Conversion Rate?
Assuming that many customers will buy on their first visit to your store is a long shot.
Concretely, report by Episerver suggests that only 17% of customers say buying is their main goal when visiting an ecommerce for the first time.
Furthermore, a study by Barilliance found out that returning visitors:
Source: Barilliance
It's not the same to sell 16$ T-shirts or 600$ dresses, we know this.
We are aware that the number of touchpoints your customer will need before purchasing varies a lot based on your product and brand positioning.
But, since it's becoming increasingly complex to map the online fashion buyer customer journey, one of your few certainties and top priorities should be to make visitors come back to your store; you'll get to the details later.
How to Measure Returning Visitors in Fashion Ecommerce
As soon as you successfully complete the set up, Google Analytics offers you an overview of New Visitors vs Returning Visitors.
On your Dashboard you just need to go to Audience>Behavior>New vs. Returning.
How does Google define a Returning Visitor? Google sets a 2-year expiration date on New Visitors, which means that if someone visited your your ecommerce in the last 2 years and comes back again from the same device, he/she will be tagged as Returning Visitor.
In addition, in case you are a Shopify merchant, Shopify Analytics will also be able to tell you easily when a visitor comes back, makes a purchase for the first time or repeats a purchase in your store.
Source: Shopify Help Center
5 Quick Wins to Increase Returning Visitors Today
These are the 5 quick wins we bring you this week to help you boost your Conversion Rate by making visitors come back to your store:
#1 Send Thank You Emails
Show gratitude. Period.
"When should I send them?" you may wonder.
Again, if these are you first steps, start by sending them right after they make a purchase in your store.
Source: Ometria
Once you get the first metrics, you should extend your most sincere gratitude to other key moments of your customers lifecycle: receiving the product, subscribing to your newsletter, hitting a milestone…
Find more ideas for the best post-sale moments to send emails in this post by Shopify.
#2 Create Content Consistently and Boost it on Social Media
Not every company has the resources to create content on a daily basis, and this is precisely why generating the habit can lead to great results.
If you or your team are of those who wait for inspiration to get content created, then the first thing to do is to keep the production of content streamlined.
The easiest to become consistent in content creation is to establish an editorial calendar and stick to it!
Visit CoSchedule's 7 content calendar examples from awesome brands to get a grasp of best practices easily.
Source: Sprout Social
The second is to promote it on all your Social Media channels… and beyond! Why? Because we all use SM to find something new, and it is an increasing trend. In fact, according to Hubspot, content consumption has increased on Facebook by 57% and on LinkedIn 21%.
It's not enough with creating it, your content needs to find your visitors out there.
#3 Start a Newsletter
The advantage of this piece of content is that is a basic and cheap way (compared to Pay-Per-Click) to nurture your audience and feed them with new products and offers that will hopefully spark their interest to a point that will lead them to your website.
Looking for inspiration? Check out these 20 ecommerce newsletter examples.
Just remember 2 things: first don't become spammingly annoying, and second, make sure you respect communications consent and privacy regulations, particularly, in those countries where GDPR applies.
#4 Create a Customer Loyalty Program
If you haven't started it yet, it should be among your top priorities.
Not sure about where to start? Remember: keep it simple!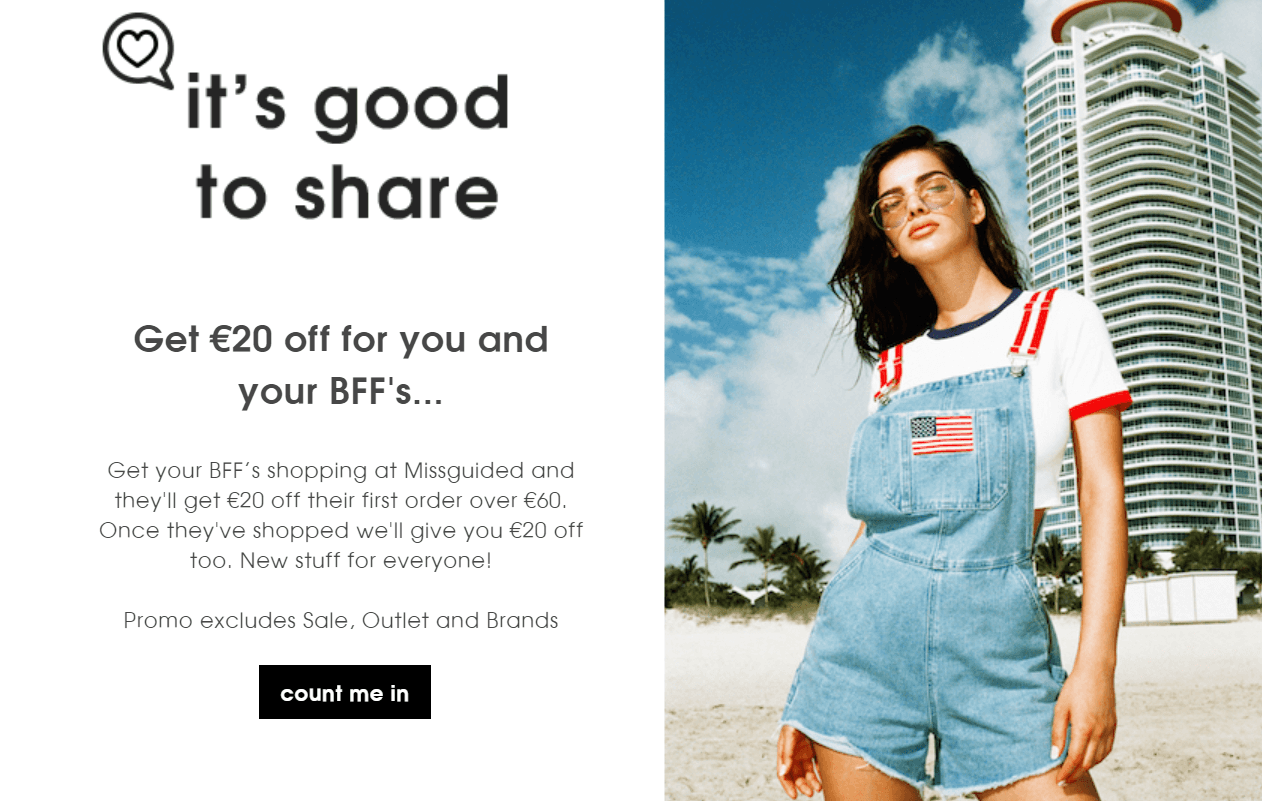 Source: Antavo
If you already have one and you are actively looking for inspiration, check the 8 most inspiring fashion loyalty trends in Europe and 25 strategies from Shopify merchants.
#5 Use Retargeting
We've all experienced having Facebook, Instagram or Google Ads following us after we visited certain product. Despite the myriad of opinions on how annoying they can become for the user, be sure of one thing: they work.
Simply put, retargeting consists on tagging the people who visit your store, then targeting them with banner ads after they leave your ecommerce.
Source: TheList
Probably you should build on the previous quick wins before starting with this one, but it's truly one the most powerful tactics to repeat visits and online sales.
Follow Veeqo's 101 guide as a great starting point for ecommerce retargeting.
The key here is to clearly define the audience to target based on the actions taken in your ecommerce, so you can optimize every penny spent on it to eventually optimize your conversion rate too.
---
Conclusion
Love is hard to find at first sight, harder when we talk about fashion and much harder when we talk about ecommerce. Lasting relationships are built step by step.
Taking into consideration the challenge that the increasing lack of loyalty to brands represents nowadays, it is more important than ever to stay top of mind and to give your visitors good reasons to return to your site.
We really hope that by executing the tips that we shared with you today, your Conversion Rate will benefit from all those who are happy to come back.
What do you think? What have you tried to Increase Returning Visitors?
Tell us below! Write a Comment!