Whether you are an established fashion retailer or a starting Shopify merchant, Conversion Rate is one of the most important metrics which drive the growth of your ecommerce.
This series of articles will analyze the 4 tactics which have helped some of the fastest-growing fashion brands optimize their conversion rate.
Did you miss previous articles? Read Part I, Part II and Part III of the series.
---
Today, we will cover the fourth and last of the 4 tactics which will be analyzed in this series: Reduce Cart Abandonment
In this article, we will explain you why it is important, how you can control it, and as always, we will provide you with 4 actionable quick wins to start Reducing Cart Abandonment today.
Why is Reducing Cart Abandonment Important for your Conversion Rate?
According to Salescycle the average Cart Abandonment rate for Q1 2018 was 75.6%.
In other words, a huge pool of potential buyers which showed a clear interest in your products.
Source: Practical Ecommerce
How to Measure your Cart Abandonment Rate
One of the most used tools to track Cart Abandonment Rates is Google Analytics. Salescycle offers a great step by step guide on how to set up Cart Abandonment Tracking using Google Analytics.
Shopify also allows you to review your abandoned Checkouts and set up automatic recovery actions.
Source: Shopify
4 Quick Wins to Reduce Cart Abandonment Rate Today
These are the 4 quick wins we bring you this week to help you boost your Conversion Rate by making visitors come back to your store:
#1 Zero Surprises Policy
Extra Costs are the #1 reason why users abandon the Checkout Process, according to Baymard Institute.
Whatever the flow of your checkout process or the additional costs might add up, be crystal clear about the final price.
If you have multiple shipping and payment options (which you should) show them on your Product Page, your Cart, during Checkout and on the specific Page you have for this information.
What is the final price? How do different shipping/payment options change it? No matter the options, say it upfront
Source: Baymard Institute
In addition, always confirm that the product is available before Checkout.
Besides being an incredible lever to create urgency by scarcity, it prevents your customers from having a terrible experience of completing the Checkout process to find out after that the product is no longer available.
If the product is on Backorder, collect their email and set up alerts to notify them when the product is available again.
#2 Outline and Isolate the Checkout Process
Your customers should be able to answer at a glimpse the following questions during the checkout process:
Where am I?
Where am I going?
How long does it take to get there?
Paraphrasing UI guru Steve Krug: Don't make them think.
Tunnel. Vision. It.
Upselling strategies and tools are great for increasing Average Order Value (AOV), but maybe not so good for your conversion rate, which is what we are trying to optimize here. At least not during Checkout.
Are you using them or thinking of using them? Include them before Checkout.
Apply this rule of thumb: if the answer to the question "Does it distract the customer from clicking on the Click-To-Action (CTA)?" is affirmative, don't include it.
In addition, always add CTA buttons to the top and bottom of the page. Make sure they don't spend a millisecond wondering how to get to the next step.
Payment Last
Ask your customers for this sensible information last, right before the Order Summary.
It is also a good moment to use Trust Badges and remind the user there is nothing to worry about.
Include a Final Order Summary
You should also include a Final Review of the order which summarizes all the important information about the order they are about to place.
It will help your visitors reaffirm their purchase intentions before pressing the big Red Button. Think Amazon.
Source: Amazon
Single or Multi-Paged?
There are different opinions on this matter. The debate started with Elastic Path's A/B test which found out that single-page increased conversion by 21.8% more.
On the one hand, at first sight, single-paged checkouts seem the best option, but they can lead to a long scroll down which kills the experience and they might not allow you to compartmentalize Checkout steps as smoothly as multi-paged checkout does.
On the other hand, multi-paged checkouts ask the user to constantly click on the CTA to proceed. It's about testing what works best for you.
#3 Reduce the Number of Steps and Fields
Minimizing the number of steps and asking the user to complete fewer fields will help you boost your conversion rate.
In fact, a complicated checkout process is the #3 reason why customers don't finish the Checkout Process.
Include Guest Checkout
This is probably one of the most overheard tips out there but is remarkable how many fashion stores we find which still ask you to Register to Buy.
Source: Farfetch
Do you want them to Register?
Give them the option to Register after they completed the purchase and Reward them for doing it; at least include all the perks they can benefit from if they Register.
No More Fields than Necessary
A recent research showed that the average checkout contains 14.88 form fields, twice as many form fields as needed.
How many fields are you using? Are ALL of them essential?
A few quick changes for doing this:
Use a single Name field instead of two fields for First and Last Name.
Use services such as Google Place Autocomplete Address Form to autocomplete Addresses and ZIP codes.
By default, make the Shipping Address the same as the Billing Address, unless stated differently by the user.
Remember the details from Returning customers.
#4 Get the Email Address ASAP
Email is crucial in your relationship with the user, it's the foundation where most of your communications pivot on.
One of the best things of Guest Checkout is that visitors with a clear intent of buying will give you their email address almost without noticing it. It's a little price to pay for getting what they want.
Getting the email contact allows you, along with permission to, first, interact with the user to the extent and complexity of the personalization of your content and communications and, second, remember and reward returning users and customers.
As stated in Part III, if returning visitors are vital for your conversion rate. How important are returning customers for you then?
Why is Getting the Email ASAP so Important for Optimizing Checkout Process?
Because it allows you to follow up on Abandoned Carts.
As stated in the Predictive Intelligence Benchmark Report by Salesforce, 60% of the abandonment emails sent within 24 hours resulted in a sale. How do you think this will affect your conversion rate?
Source: Shopify
How to Get More Emails
Try the following:
1) Include Exit Intent Popups
There are many tools out there which allow you to detect site and Chart abandonment and trigger a pop up to offer the user an incentive to stay before it's too late.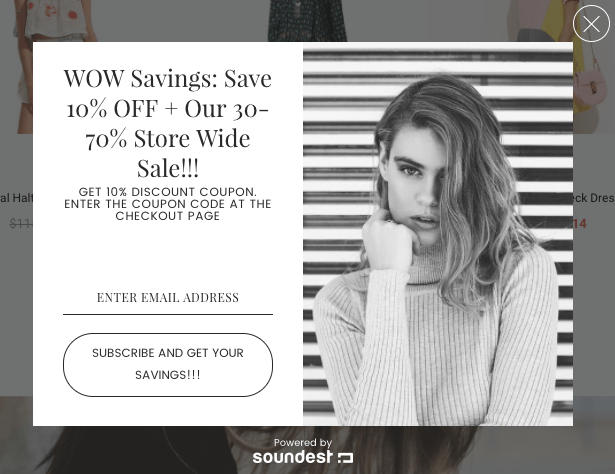 Source: She Shimply Shops
Are they inside the Cart? Make them an offer they cannot refuse.
Source: Omniconvert
2) Ask for Marketing Permission Smoothly
For example, when asking for required Contact Information.
Source: Poo-Pourri
3) Tell them to Subscribe after Purchase
Take advantage of that little moment of joy.
---
Conclusion
The Checkout Process is the moment of truth.
Focus on making the Checkout experience so simple that even 5-year old kid could complete it. Remember also to track those who leave the process without purchase; chances for converting them later are higher than those of anyone who reached a previous stage of your funnel.
What was your opinion of these 4 tactics to Optimize your Conversion Rate?
Let us know in the comments!